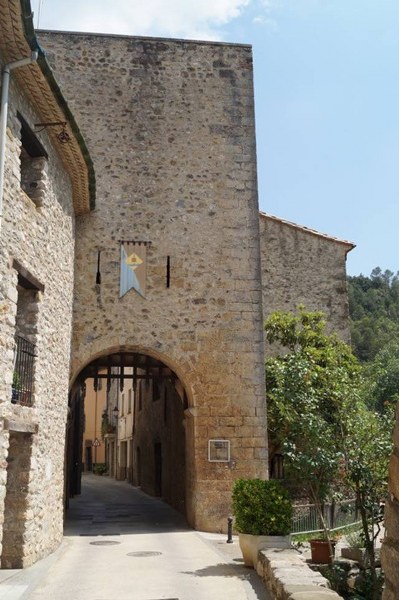 A walled manger village with four towers and three portals that give access to the village and the church, an irrigation that it gives water to the orchards of the village and that borders it following the walls. Outside the wall are the Watchtower, the remains of the Castle, the hermitages of Sant Jordi, Sant Andreu, Mare de Déu de Palau, Sant Antoni, Carbonills which together with the Pont de Sant Antoni and the Pont Vell make up an architectural route following the Muga riverbed.
We are in the Alt Empordà region, 18 km. of Figueres, at the foot of the Pyrenees, in the Muga Valley that keeps us from the Tramuntana and surrounded by forests of holm oaks, pines, chestnuts, cork oaks and oaks where there are specimens of native fauna such as guilles, squirrels, wild boars, red, partridges, ideal for harvesting all kinds of mushrooms, asparagus and other berries.
Bathed by the river Muga, with its transparent gorges that in summer call for bathing, water is present throughout the village thanks together with the irrigation to the four springs that we find inside the nucleus, one of them sulfurous, known popularly as the "pudosa" for the strength it gives off.
This dream environment has fused the quality of life of nature with the needs of today's society, so we have five restaurants, a hotel, a hostel, rural tourism, a campsite and a social center, THE SOCIETY, centenary.